Insurance Agents & Brokers (IA&B) this week received commendations for its professional training program. The Independent Insurance Agents & Brokers of America (IIABA) awarded IA&B two Excellence in Insurance Education Diamond Awards at its 2019 Education Convocation, held in Savannah, GA.
"This is the third year running that we've earned two diamond awards," said IA&B President & CEO Jason Ernest, Esq. "That's a testament to the strength and breadth of our offerings."
IA&B delivers 140 in-person seminars annually throughout Pennsylvania, Maryland, and Delaware. These include licensing exam preparation classes; special coverage courses; errors and omissions prevention classes; and CIC, CISR, and CPIA designation programs. In addition, the organization each year offers approximately 100 live webinars that award continuing education credits.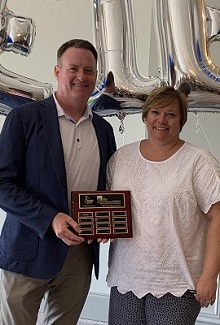 "We're proud of this recognition, and we're committed to maintaining the high quality of education that the insurance community has come to expect," said Ernest.